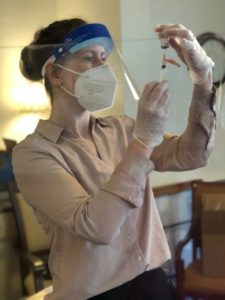 Guardian Pharmacy of Jacksonville recently hosted its very first COVID-19 vaccine clinic at HarborChase of Mandarin Jacksonville.
The COVID-19 vaccine has been long awaited. Although, while many seniors have met the criteria to receive the vaccine, not all have been able to go and get it. Guardian Pharmacy of Jacksonville is beyond grateful to offer COVID-19 vaccines to those interested, and we are proud to provide a safe and efficient experience for those receiving their vaccination.
At Guardian Pharmacy Jacksonville, we are doing our part to keep residents and caregivers  safe!